Sydney Residence Bathroom
Surface: Limestone, Porcelain & Grout | Product Used: Ole-Repella™ 

Applicator: Ozshine Stone & Tile Care
---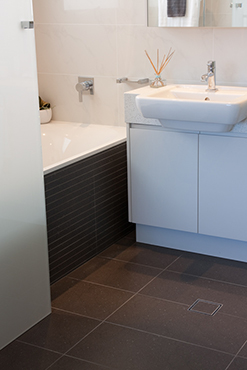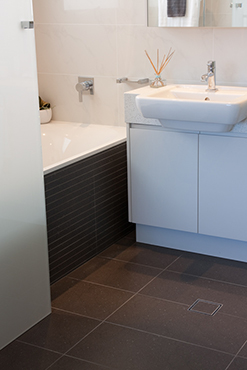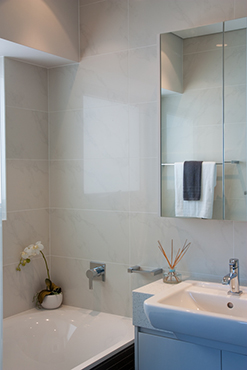 THE PROJECT:
A Sydney family wanted to protect their bathroom with a sealer which would not affect the look of their new tiles and grout, be safe for the kids and quick to apply and cure so they could begin using the bathroom the next day.
After a costly renovation, the family were also looking for premium protection at an affordable price.
SPECIAL REQUIREMENTS: 
Superior level of stain protection
Retain original look of surface
Maintain wet-slip resistance
Quick application and curing time
THE DRY-TREAT SOLUTION:
HANAFINN Ole-Repella™ was applied to the grout to make it oil and water repellent and protect it from both staining and problems caused by water absorption. Application of the sealer to all bathroom surfaces took 2 hours, and the bathroom was ready to use after 8 hours. Ole-Repella™ is odour free, ultra low VOC and contains no phosphates so it is environmentally responsible. 
Ole-Repella™, unlike other premium fluorocarbon impregnators, free of PFOAs and all other known carcinogens and toxins. PFOAs are a cancer causing by product found in many fluorocarbon and Teflon products. It is always recommended to ask your supply if the product you are purchasing is PFOA free. Ole-Repella™ is suitable for indoor/outdoor, domestic and commercial applications. The best fluorocarbon chemistry has been redesigned so that Ole-Repella™ will repel water and oils better and will last 2 to 3 times longer than other products of its type.
NOTE: For a permanent treatment, see Dry-Treat STAIN-PROOF Original™ or META CREME™
---
Tagged : Ole-Repella™, Australasia, Residential, Tile,Grout
---