Bleiswijk Residence
Surface Type: Chinese Bluestone | Product Used: Color Enhancing Sealer | Completed: July 2014
Applicator: Sealer bvba | Email: info@sealer.be | Website: www.sealer.be
---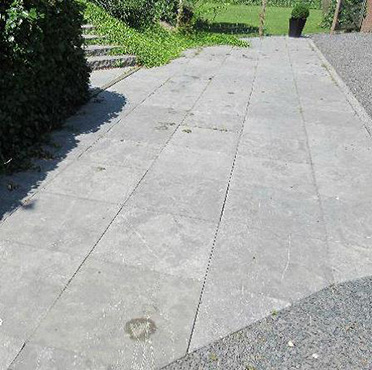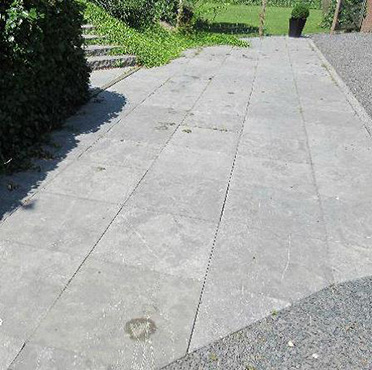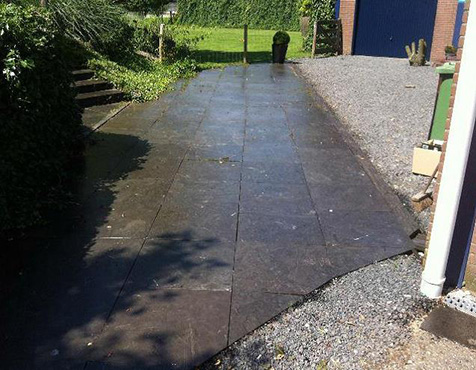 THE PROJECT:
This Chinese bluestone is actually a dolomite-rich limestone. The natural stone's colour typically ranges from a dark grey to blue hue. This driveway in Bleiswijk, Netherlands was a dull, pale grey. The fading colour was not the stone's only problem. The driveway also required protection from staining. If continued to penetrate into the bluestone, oil from parked cars and water ingress could have caused deep staining and efflorescence. A treatment was needed that would enhance the colour of the surface whilst providing excellent stain repellence.
SPECIAL REQUIREMENTS:
Dull, fading pavers required an intense colour enrichment

Premium water and oil repellence

Treated surface had to retain wet-slip resistance
THE STAIN-PROOF® SOLUTION:
This Chinese bluestone driveway was far from aesthetically pleasing. The dreary, grey surface needed a revitalisation. As well as an updated appearance, the client also requested stain protection for the driveway. It was important that the treatment applied would not make the surface any more slippery.
For these reasons STAIN-PROOF Color Enhancing Sealer, formerly known as INTENSIFIA™, was chosen for the project.
Color Enhancing Sealer is the ultimate combination of enhancer and sealer. Treated surfaces have a deep colour intensification and superior stain protection. The enhancer deeply enriched the natural colour of the driveway, restoring it to its former glory. The excellent water and oil repellency meant the bluestone no longer suffers from deep oil stains. Unlike coatings, Color Enhancing Sealer does not crack, yellow or peel – resisting traffic and UV radiation. A 5 year performance warranty is provided when Color Enhancing Sealer is applied by a STAIN-PROOF Accredited Applicator.
---
Tagged : Color Enhancing Sealer, Europe, Residential, Bluestone
---