Singaporean Office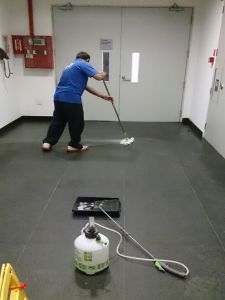 THE PROJECT:
The approximately 15,000 sq. ft. reception area at an office building in Singapore was in need of protection. The granite tiled lobby and lifts were being constantly stained. The commercial client required a sealer that would provide long lasting stain protection without altering the natural colour of the granite or compromise the safety of the flooring. 
SPECIAL REQUIREMENTS:
Superior, long lasting stain protection 
Sealer must not affect the original look of the surface
Treated surface must be easy to maintain
Wet-slip resistance of floor must be retained

THE STAIN-PROOF® SOLUTION:
The reception area and entrance to the lifts are a major thoroughfare. Hundreds of people walk through the Singaporean building daily. This resulted in the granite tiled lobby and lift area being constantly stained, requiring ongoing cleaning and maintenance. The sealer used needed to repel stains while ensuring the natural colour was not altered. The high foot traffic also meant the protection used could not affect the wet-slip resistance as this would make the surface hazardous.
For these reasons STAIN-PROOF Premium Impregnating Sealer, formerly known as STAIN-PROOF Original™, was chosen for the project.
Premium Impregnating Sealer penetrates deep into a material. This creates the premium water and oil-repellent barrier which has stopped the granite tiles from staining. The permanent chemical bonding that occurs in the pore structure prevents the sealer cracking or peeling away from the high volume of foot traffic received at the office. This bond also ensures the sealer stands up to commercial cleaning processes that are regularly undertaken at large commercial buildings. The permanency of Premium Impregnating Sealer means regular re-application is not necessary so the cost and effort to maintain the reception area will be reduced.
---
Tagged : Premium Impregnating Sealer, Australasia, Commercial, Granite
---