Ground Zero Monument
Surface: Caesar Stone | Product Used: Premium Impregnating Sealer| Completed: March 2014
Applicator: STONE DESIGN, INC. – Tony, Ana and Kevin Guzman | Fabricator: Stone, Tile and Granite of Lexington, KY
---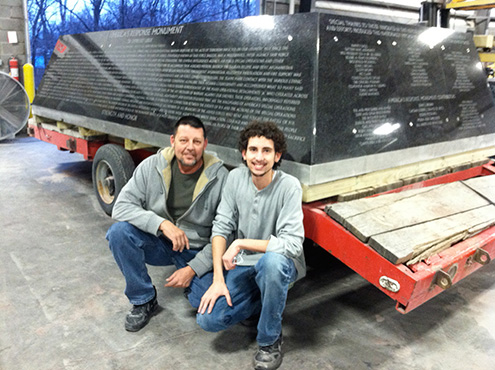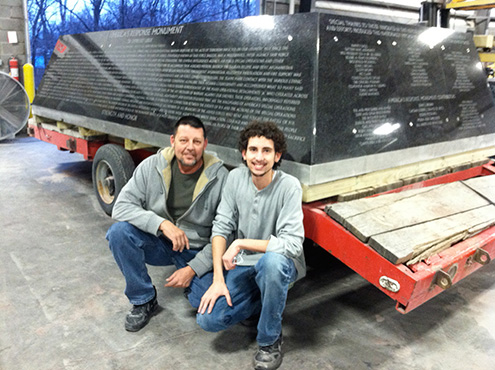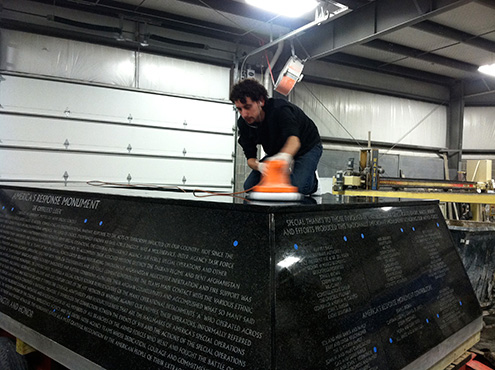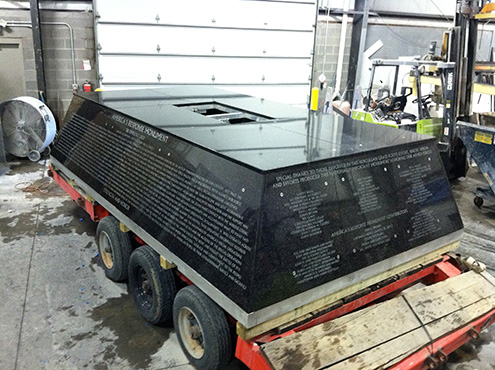 THE PROJECT:
The Ground Zero Monument, titled "De Oppresso Liber", honors the US Army Special Forces, who rode horses into battle in Afghanistan after the events of Sept. 11. The monument, a large statue (left), sits near the World Trade Center tower. "This work of art will remind all visitors to the W.T.C. Memorial of those who altered the course of history after Sept. 11, 2001" – Vince McGowan, president of the War Veterans Council (WVC). During production, the statue was treated before it was assembled and reallocated to its current location. 
Stone, Tile and Granite was assigned to assemble the monument.

Stone Design, Inc. was assigned the task of sealing all materials, led by the team of

Tony, Ana and Kevin Guzman.
SPECIAL REQUIREMENTS:
The special requirements for sealing the
materials during production were:
The surface needed to be deep sealed 

without the use of acids.


UV resistance.

Sealer must not alter the original look.

Sealer must be water and oil repellant.

Sealed surface must be easily 

maintained with simple cleaning 

methods.

Sealer must be permanent.
THE STAIN-PROOF® SOLUTION:
STAIN-PROOF Premium Impregnating Sealer, formerly known as STAIN-PROOF Original™, makes the treated indoor and outdoor surfaces permanently oil and water repellent, so that spills remain up on the surface, where they can be easily mopped off. Premium Impregnating Sealer will cure enough in 8 – 10 hours for the surfaces to be used, so sealing can be performed after-hours without interrupting traffic. Surfaces treated with Premium Impregnating Sealer are much easier to clean with use of regular cleaning methods. Premium Impregnating Sealer bonds permanently with the treated material and does not alter the original look of the surface.
---
Tagged : Premium Impregnating Sealer, North America, Public, Caesarstone
---