Hay St Mall
Surface Type: Granite | Products Used: Color Enhancing Sealer & Premium Impregnating Sealer
Completed: November 2005
---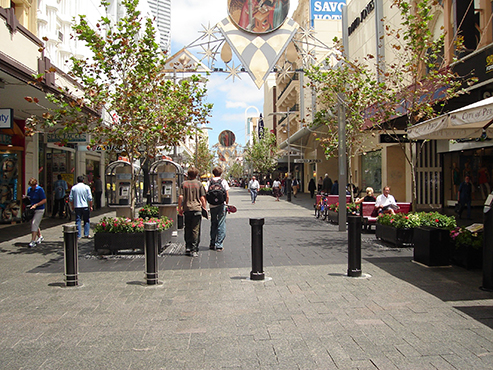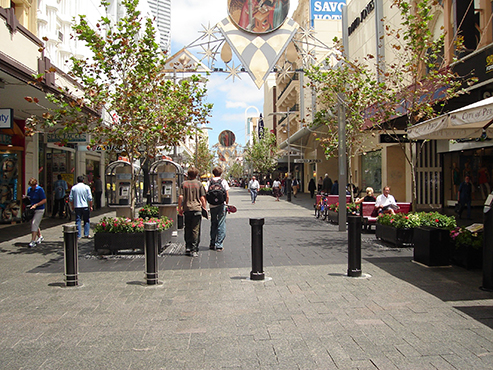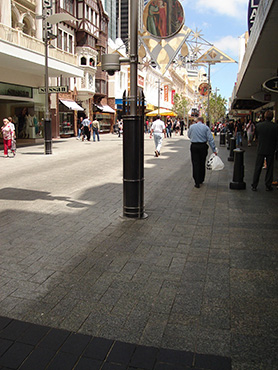 THE PROJECT: 
Rejuvenating and protecting the paving of a major Australian pedestrian mall, in line with Perth Council's stringent public safety, maintenance, aesthetic and quality specifications. Hay Street Mall is a high-traffic pedestrian mall in the heart of Perth's central shopping district, supporting a mixture of retail shopping and eateries with alfresco dining. To enhance the mall's natural charm, Perth Council invested in granite paving with a grey-green colouring. For public safety, the granite was flamed to increase slip resistance, which unfortunately discoloured the stone, leaving it with a dull grey appearance. 
SPECIAL REQUIREMENTS:
An enhancer that would revitalize 

the natural colour and appearance of the discoloured stone.

A minimum 10 year performance warranty.

For public safety, the sealer could not alter the slip performance of the surface.

Application of the sealer must not disrupt everyday use and business activity in the mall.

The surface must be able to be cleaned and maintained without using special products or methods. In particular, the Council wished to avoid further maintenance expenses by continuing to use their existing cleaning methods – alternate light scrubbing and pressure washing.
THE STAIN-PROOF® SOLUTION: 
The winning STAIN-PROOF tender proposed a single coat of STAIN-PROOF Color Enhancing Sealer, formerly known as INTENSIFA, to rejuvenate the discoloured granite and 2 further coats of STAIN-PROOF Premium Impregnating Sealer, formerly known as STAIN-PROOF Original™, to protect the surface, with a 15 year performance warranty. Perth Council is impressed with the results and is recommending STAIN-PROOF for a number of similar projects. Premium Impregnating Sealer gave Perth Council proven long term protection. The sealer also offered long term savings in maintenance costs. Perth Council are able to continue cleaning the surface with alternate light scrubbing and pressure washing, with no need for special equipment or chemical cleaners.
The Initial treatment with Color Enhancing Sealer successfully restored the natural beauty of the granite, enhancing its detail. Official test results show that stone treated with Color Enhancing Sealer retains its slip resistance. On concrete, Color Enhancing Sealer carries an official Class W classification: "Low risk of slipping when surface is wet" (AS/NZS.4586). Sealing was accomplished over a 5 day period in November 2005, with all cleaning and sealing executed between 9pm and 6am each day, so regular access and business was not affected.
Color Enhancing Sealer is the ultimate combination of enhancer and impregnating sealer, providing deep colour enrichment plus unrivalled water and oil repellence. The UV-resistant enhancer will not discolour crack or peel over time. Color Enhancing Sealer retains the wet slip resistance and breathability of surfaces. The enhancer is also environmentally responsible producing low VOCs throughout its exceptional 5+ year lifespan. 
---
Tagged : Stain-Proof Original,Intensifia,Enhance-Plus,Color Enhancing Sealer,Premium Impregnating Sealer, Australasia, Public, Granite
---