Ivy Cottage
Suface: Victorian Geometric Encaustic Tile | Product Used: Premium Impregnating Sealer| Completed: January 2012
Applicator: Steve Sinnott | Email: info@heritagetiling.com
---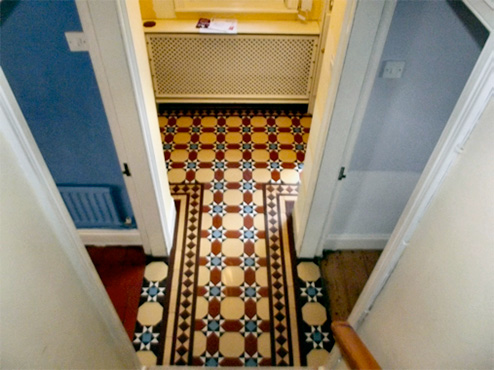 THE PROJECT:
Steve Sinnot from Heritage Tiling and Restoration Co. was tasked to restore damaged small geometric floor due to a porch that was added 10 years later after the house was built (1880).
THE REQUIREMENTS:
Provides long lasting protection and warranty

Protection against damage caused by water and oil

Sealer has to allow the surface to breathe

Minimal maintenance

Does not change the look of the tiles
THE STAIN-PROOF® SOLUTION: 

To fullfill the requirements, Steve chose STAIN-PROOF Premium Impregnating Sealer, formerly known as STAIN-PROOF Original™, the world's leading impregnating, invisible, breathable sealer. This is what Steve said in a magazine intervview:
I have found STAIN-PROOF products to be the best I have used over the last 40 years bar none; STAIN-PROOF is the best sealer in my opinion for sealing Victorian tiles as it allows  the tile to breathe, the sealer doesn't need to be stripped and re-applied like dwell-on sealers and oil and water borne spills are prevented from staining the tile surface.
- Steve Sinnott, NCMagazine 111, UK
Victorian Geometric tiles are very absorbent, so a light preseal with Premium Impregnating Sealer prior to the 2 main coats is necessary. Because of the heritage values of the tiles, it is important to use a sealer that does not change the outward appearance, and Premium Impregnating Sealer does just that.
For more information on Victorian geometric tiles, contact Steve at info@heritagetiling.com
---
Tagged : Premium Impregnating Sealer, Europe, Residential, Victorian Tile
---