Kings College
Surface Type: Limestone | Product Used: Premium Impregnating Sealer | Completed: 2008
Applicator: Really Safe Flooring | Phone: 01206 827870 | Email: sales@realsafe.co.uk
---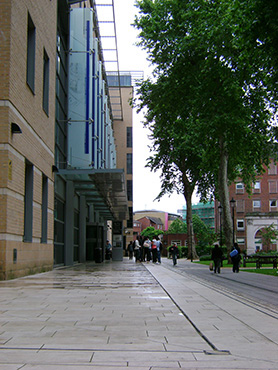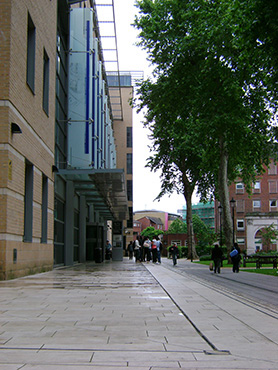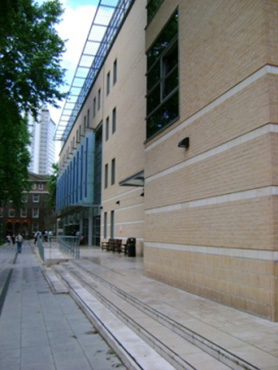 THE PROJECT:
Kings College is situated in the heart of London and is one of England's oldest and most prestigious universities with over 19,700 students. The College's highly porous limestone paving had just been treated to rejuvenate it aesthetically and roughen the surface to improve traction when wet. A special sealer was required which would not reverse the improved surface traction of the limestone.
SPECIAL REQUIREMENTS:
The most important requirement was that the sealer would not reverse the improved traction of the limestone to retain the slip resistance of the surface for the students and staff.

Anti-slip treatments make a surface rougher and more porous, and therefore harder to clean, more prone to staining and more prone to water ingress which can encourage moss and mildew growth, salt efflorescence, freeze-thaw spalling and other structural damage. An all-in-one sealer was required that would:
Have an excellent oil and water repellence

Prevent liquids from entering the roughened surface

Prevent staining and making cleaning easier

Be fully breathable to allow moisture to evaporate from underneath

Not break down under a commercial and rigid cleaning regime
3. The lifespan of the sealer and speed of application were crucial as re-sealing could further impact Kings College activities.
THE STAIN-PROOF® SOLUTION:
STAIN-PROOF's world leading, invisible impregnator, Premium Impregnating Sealer, formerly known as STAIN-PROOF Original­™, offered a complete solution for sealing the highly porous green limestone paving of London's Kings College.
The chemistry of Premium Impregnating Sealer is unique. Specially engineered molecules which are thousands of times smaller than competitor sealers penetrate much deeper into the pores of the material, where they then bond permanently, by chemical reaction, without affecting the look or breathability of the material. A sufficiently deep, permanent water and oil-repellent barrier is created, which is able to effectively protect against staining and even structural damage caused by water ingress, and which stands up to highly alkaline cleaning chemicals and commercial cleaning techniques such as pressure hosing.
As Premium Impregnating Sealer works from inside the pores of the building material, it does not affect slip resistance when the surface is wet. (See independent slip testing of Premium Impregnating Sealer by the Commonwealth Scientific and Industrial Research Organisation (CSIRO) on the STAIN-PROOF website at www.drytreat.com).
The porous green limestone paving was sealed with two coats of Premium Impregnating Sealer by Accredited STAIN-PROOF Application Company Really Safe Flooring, which specialises in slip resistance treatments, restoration and sealing of porous surfaces. The look, finish and slip resistance of the limestone surface were unchanged after treatment. Premium Impregnating Sealer's extended lifespan will not cause future interference because, unlike many other impregnators, resealing every couple of years is not required. The project is backed by a standard, 'no fine print' Premium Impregnating Sealer 15-year performance warranty.


---
Tagged : Premium Impregnating Sealer, Europe, Public, Limestone
---