Kirton in Lindsay
Surface Type: Victorian Encaustic Tile | Product Used: STAIN-PROOF Original™ | Completed: 2011
Applicator: Heritage Tiling & Restoration Co. | Phone: 0151 920 7349 | Email: info@heritagetiling.com

---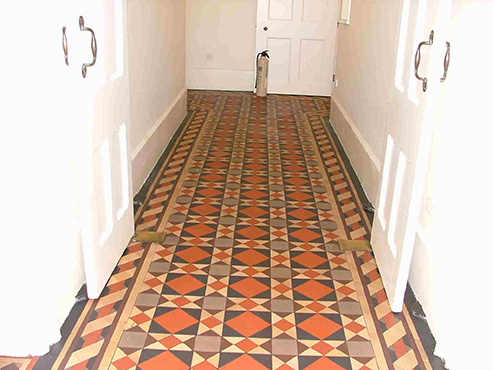 THE PROJECT:
Heritage Tiling & Restoration Company specializes in Wall & Floor Restoration/Conservation and is a world leader in the restoration of Victoria Geometric and Encaustic tile. For this job, Heritage was tasked to restore an original late 18th century Victorian Geometric tiled floor and to add an extension floor that complemented the original tiling. Dry-Treat's STAIN-PROOF Original™ was chosen for its longevity and superior stain protection.
 SPECIAL REQUIREMENTS:
Provides long lasting protection
Protection against damage caused by water and oil
Minimal maintenance 
The surface must remain breathable while reducing water uptake
Overlapping layers of previously applied sealers had discoloured the surface. These needed to be removed and replaced with a permanent impregnator which would maintain the original look of the surface
THE DRY-TREAT SOLUTION:
Dry-Treat's world leading, invisible impregnator, STAIN-PROOF Original™ was chosen. The chemistry of STAIN-PROOF Original™ is unique. Specially engineered molecules which are hundreds of
times smaller than competitor sealers penetrate much deeper into the pores of the material, where they then bond permanently without affecting the look or breathability of the material. This uniquely deep water and oil repellent barrier not only protect against staining but also structural damage caused by water ingress, freeze-thaw spalling, and salt efflorescense. STAIN-PROOF Original™ makes the surface quicker and easier to clean. 
With STAIN-PROOF Original™ resealing every couple of years is not required. The project is backed by a standard, 'no fine print' STAIN-PROOF Original™ 15-year performance warranty, when applied by a Dry-Treat™ Accredited Applicator.
---
Tagged : Stain-Proof Original, Europe, Residential, Victorian Tile
---