St Ives Residence
Applicator: BTS Sealing | Phone: 0418 766237 | Email: simon@bailytradeservices.com.au
Surface Type: Bluestone | Products Used: Premium Impregnating Sealer & Alkaline Cleaner | Completed: May 2014
---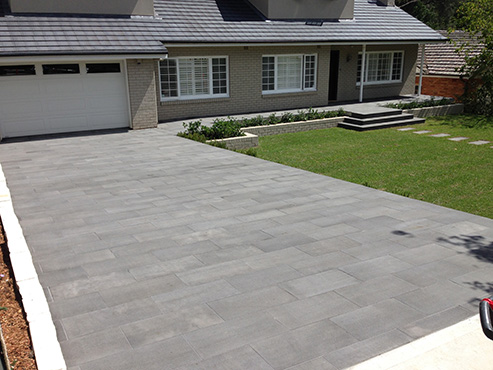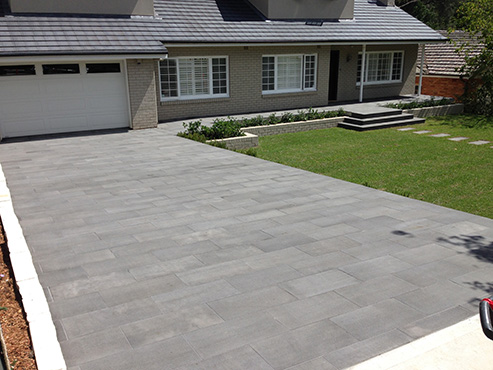 THE PROJECT:
The Driveway of this St Ives residence has been tiled with a bluestone paver. The owner had requested that the stains be removed and the surface sealed to be protected from efflorescence and future staining.
SPECIAL REQUIREMENTS:
Treated surfaces must become easier to clean and stay looking good for as long as possible, withstanding cleaning processes and traffic.
The look and finish of the surface has to be retained.
Superior stain protection.
Sealer must be permanent.
THE STAIN-PROOF® SOLUTION:
An acidic cleaner was applied to the bluestone paver which was then machine scrubbed and pressure washed to remove the deep staining. Fluid from vehicles is often the cause of stains on driveways. If left for too long, the oils will penetrate deep into the substrate of a material. The superior water and oil repellent, STAIN-PROOF Premium Impregnating Sealer, formerly known as STAIN-PROOF Original™, was then applied to the driveway to protect against future staining and efflorescence.
Premium Impregnating Sealer permanently bonds to the material through a chemical reaction deep inside the pores which is why it stands up to traffic and cleaning. The sealer's permanency means it does not need to be re-applied regularly so the cost and effort of maintenance is reduced. The impregnating sealer comes with a 15-year performance warranty when the product is applied by a STAIN-PROOF Accredited Applicator.
---
Tagged : Premium Impregnating Sealer,Alkaline Cleaner, Australasia, Residential, Bluestone
---