Sydney Residence Driveway
Surface Type: Concrete Paver | Product Used: Color Enhancing Sealer | Completed: July 2014
Applicator: BTS Sealing | Ph: 0418 766 327 | E: simon@baileytradeservices.com.au
---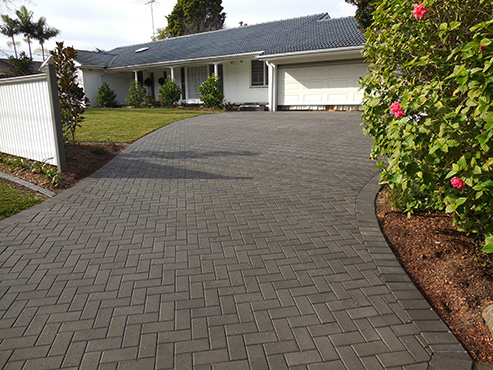 THE PROJECT: 
The owner of this driveway wanted a product that would enhance the colour of their concrete paving as well as provide protection against staining. The pavers are completely uncovered, subject to regular rain. Oil spills from cars parked in the driveway will also impact on the surface. Concrete is quite a porous material which will stain easily if spills are left on the driveway. 
SPECIAL REQUIREMENTS:
• The Sealer must enhance the colour of the surface.
• Treated surface must repel water and oil.
• Treated surface must become easier to clean and stay looking good for as long as possible.
THE STAIN-PROOF® SOLUTION:
An enhancer was required to darken the look of the concrete driveway. However, as the surface will constantly be subject to rain and potential spills such as motor oil from a car, lasting protection from water and oil-based stains was necessary. Any liquid that is repeatedly allowed to penetrate into porous materials will cause deep staining. Even with a sealer applied to a surface spills should still be wiped up as soon as possible.
For this reason STAIN-PROOF Color Enhancing Sealer, formerly known as INTENSIFIA™, was chosen because it will provide an intense and lasting enrichment of the driveway as well as ensuring the surface has a superior level of water and oil repellency. Due to the porosity of the concrete pavers, four coats of Color Enhancing Sealer instead of the usual two coats were needed to achieve the desired colour enrichment. This demonstrates how important it is to test our products on a small area first and wait 24 hours to ensure the treatment is satisfactory.
---
Tagged : Color Enhancing Sealer, Australasia, Residential, Concrete
---