The Austonian
Surface Type: Limestone and Hanover Pavers | Products Used: Premium Impregnating Sealer, 40SK Consolidator & Water Repellent | Completed: 2010 
Applicator: Crystal Clear Pools | Phone: (512) 339 9304 | Email: cris@poolrelief.com
---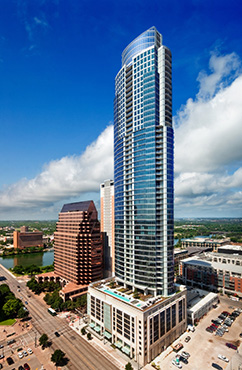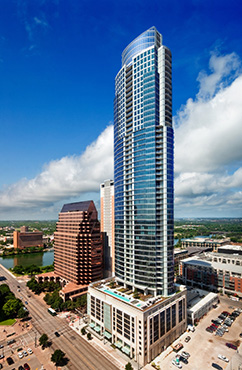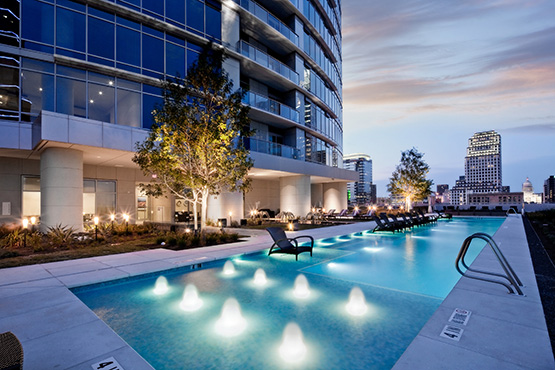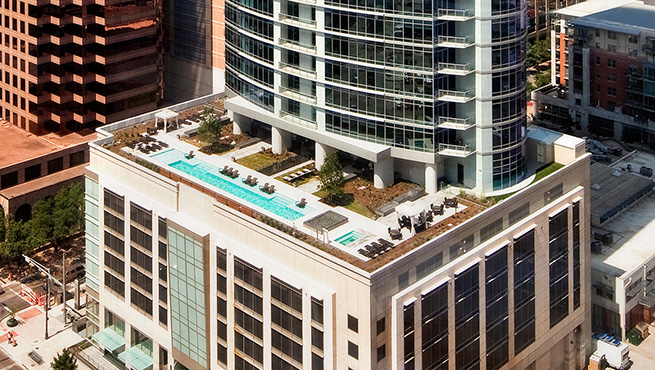 THE PROJECT:
The Austonian, Austin's tallest residential building in the heart of downtown, has been awarded a coveted Four-Star rating from Austin Energy Green Building (AEGB), making the residential high rise the only one of its kind in the central business district. The Austonian's Four Star rating is comparable to the LEED Gold rating.
The building features a 10th floor garden deck, with a 75 ft. pool overlooking Congress Avenue.
For the pool area, the architects used 2000 sq/ft of Limestone and 3200 sq/ft of Hanover pavers. Porous materials are vulnerable to staining and problems caused by water and salt ingress, such as efflorescence, salt spalling and freeze-thaw spalling
SPECIAL REQUIREMENTS:
Superior water and oil stain protection. 

Longevity – so regular costly and disruptive re-application is not required. 

The look and finish of the surfaces had to be retained. 

Sealer must not affect the slip resistance of the surfaces when wet. This is especially important for wet areas such as swimming pools in commercial or public environments.

Sealed surfaces should be easier to maintain and clean – withstanding commercial and alkaline cleaning chemicals.

Due to the exposure to the Texas climate, and the soft nature of the Limestone, it needed to be sealed with product which could consolidate the stone, strengthening it against freeze thaw spalling
THE STAIN-PROOF® SOLUTION:
Crystal Clear Pools cleaned the Limestone and Hanover surfaces before treatment. First, STAIN-PROOF 40SK Consolidator & Water Repellent, formerly known as DRY-TREAT 40SK™, was applied to the exterior surface to help consolidate the soft stone and make it less prone to efflorescence, salt spalling and freeze-thaw spalling. STAIN-PROOF Premium Impregnating Sealer, formerly known as STAIN-PROOF Original™, was applied 2 weeks later to add premium oil stain protection to the super water-repellency of the 40SK Consolidator & Water Repellent.
Neither sealer affects the look or slip resistance of the surface, and both bond permanently deep inside the pores, so are not affected by strong alkaline cleaners and do not need to be re-applied. A 15 year performance warranty is available when a surface is treated by a STAIN-PROOF Accredited Applicator.
---
Tagged : Premium Impregnating Sealer,40SK Consolidator & Water Repellent, North America, Commercial, Limestone
---